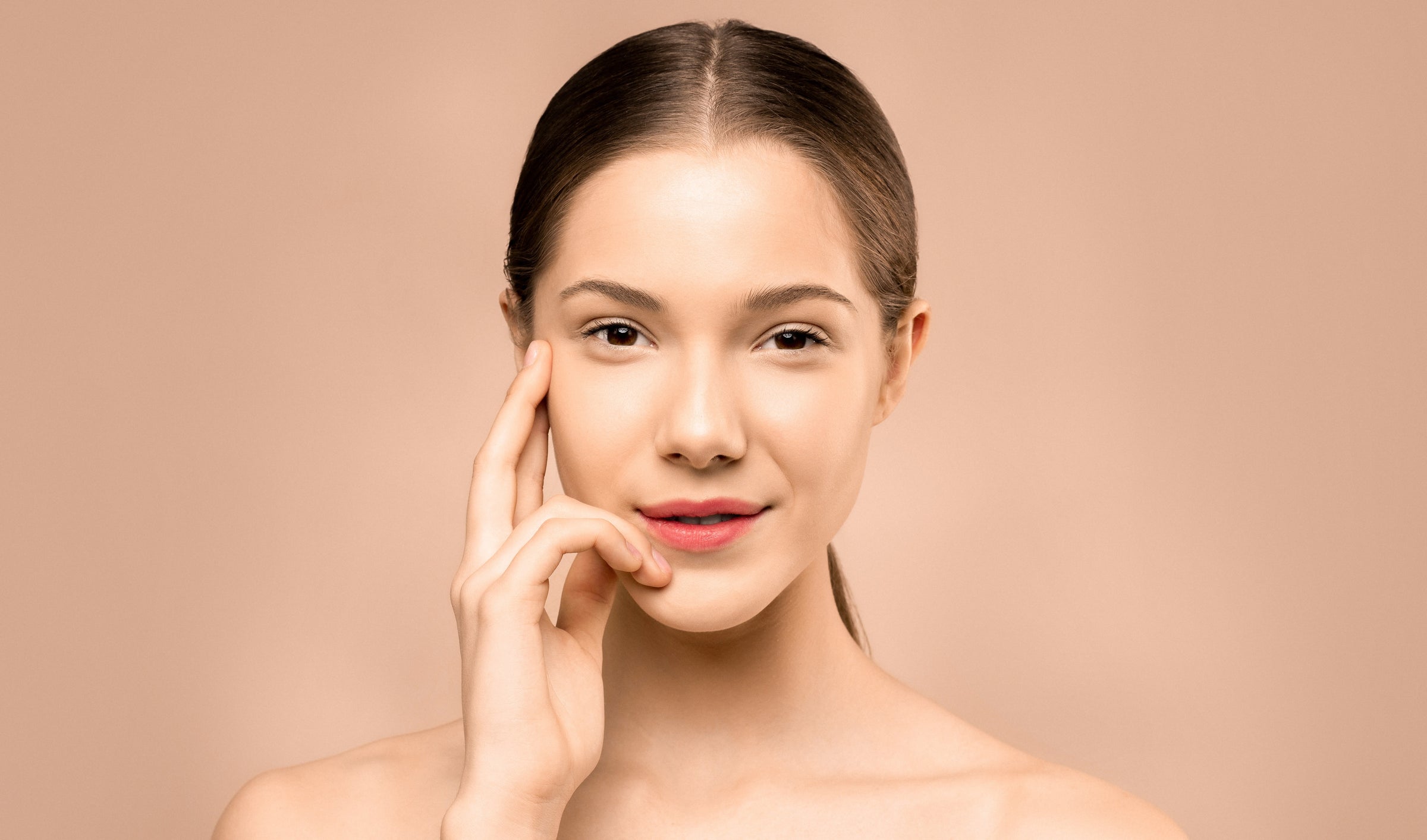 Skin Protection
Astaxanthin protects the skin on a cellular level against oxidation, inflammation, DNA damage and the cells' mitochondria.
Topical creams and lotions have been aggressively promoted by cosmetic marketers. However, the majority of the products only work on the outer layer of the skin through either "chemical peeling" or "acceleration of skin cell life cycle". These processes expose the underlying new skin, which is obviously not a healthy solution to remain beautiful in the long run.
Unlike those topical products, astaxanthin has been studied in multiple researches and is proven to work from inside-out replenishing all the skin layers. and therefore, astaxanthin is also named as "Internal Beauty Pill".
When astaxanthin is ingested, it starts to concentrate in blood, muscles and organs such as eyes, brain, heart and skin. As it concentrates in these organs, it protects them on a cellular level against oxidation, inflammation, DNA damage and the cells' mitochondria. Astaxanthin protects against photo-aging which occurs when UV light penetrates deep into the skin's dermis layer. This photo-aging causes wrinkles, age spots, inflammation (sunburn) and cellular damage. By preventing UV damage and photo-aging, astaxanthin improves the appearance and quality of the skin whilst preserving skin health.
This study shows that 2 mg of astaxanthin per day can help to fight wrinkles, improve skin elasticity, increase skin moisture levels and reduce visible signs of UV-aging within six weeks of use (Tominaga et al., 2012).
This study shows that 6 mg of astaxanthin per day helped the treatment group experience continuous and significant improvement during the three-month course of the study. Before-and-after data showed visible improvement in the skin's appearance and reduction of fine wrinkles. Additionally, an increase in dermis density of up to 78% was found in the treatment group (Beguin, 2005).
Supporting Pre-clinical Studies
Besides human clinical studies, there are many pre-clinical studies indicating various benefits of astaxanthin on skin health.
Anti-Cancer
Astaxanthin showed anti-cancer potential in a mouse study that used UV radiation to induce carcinogenesis. This study tested two other carotenoids in addition to astaxanthin. The results showed that, while both astaxanthin and beta-carotene helped prevent cancer, lycopene had no effect (Black, 1998).
Inflammation
A common chronic inflammatory skin disease is usually caused by several different factors such as allergic reactions or immunological abnormalities. Due to astaxanthin's known anti-inflammatory activity, researchers in Japan tested its effects in a mouse model of atopic dermatitis. After 26 days of supplementation, the mice in the treatment group showed significant improvements in all 10 factors tested (Yoshihisa et al., 2016).
Oxidation Damage
Researchers chose astaxanthin from a variety of antioxidants as the likeliest candidate to repair oxidative stress-induced skin damage. This study compared the effects of Natural astaxanthin with doxycycline (a common antibiotic) and found that astaxanthin is a better alternative for collagen production (Chou et al., 2016).
References
Tominaga, K., Hongo, N., Karato, M., Yamashita, E. (2012). "Cosmetic benefits of Astaxanthin on humans subjects." Acta Biochim Pol, 59(1), 43-47.
Beguin, A. (2005). "A novel micronutrient supplement in skin aging: a randomized placebo-controlled double-blind study." Journal of Cosmetic Dermatology, 2005:4,277-284.
Black, H. (1998). "Radical interception by carotenoids and effects on UV carcino¬genesis." Nutrition and Cancer. 31(3):212-7.
Yoshihisa, Y., Andoh, T., Matsunaga, K., Rehman, M., Maoka, T., Shimizu, T. (2016). "Efficacy of Astaxanthin for the treatment of atopic dermatitis in a murine model." PLoS One 2016 Mar 29;11(3):e0152288.
Chou, H., Lee, C., Pan, J., Wen, Z., Huang, S., Lan, C., Liu, W., Hour, T., Hseu, Y., Hwang, B., Cheng, K., Wang, H. (2016). "Enriched Astaxanthin extract from Haematococcus pluvialis augments growth factor secretions to increase cell proliferation and induces MMP1 degradation to enhance collagen production in human dermal fibroblasts." International Journal of Molecular Science 2016 Jun 16;17(6).pii:E955.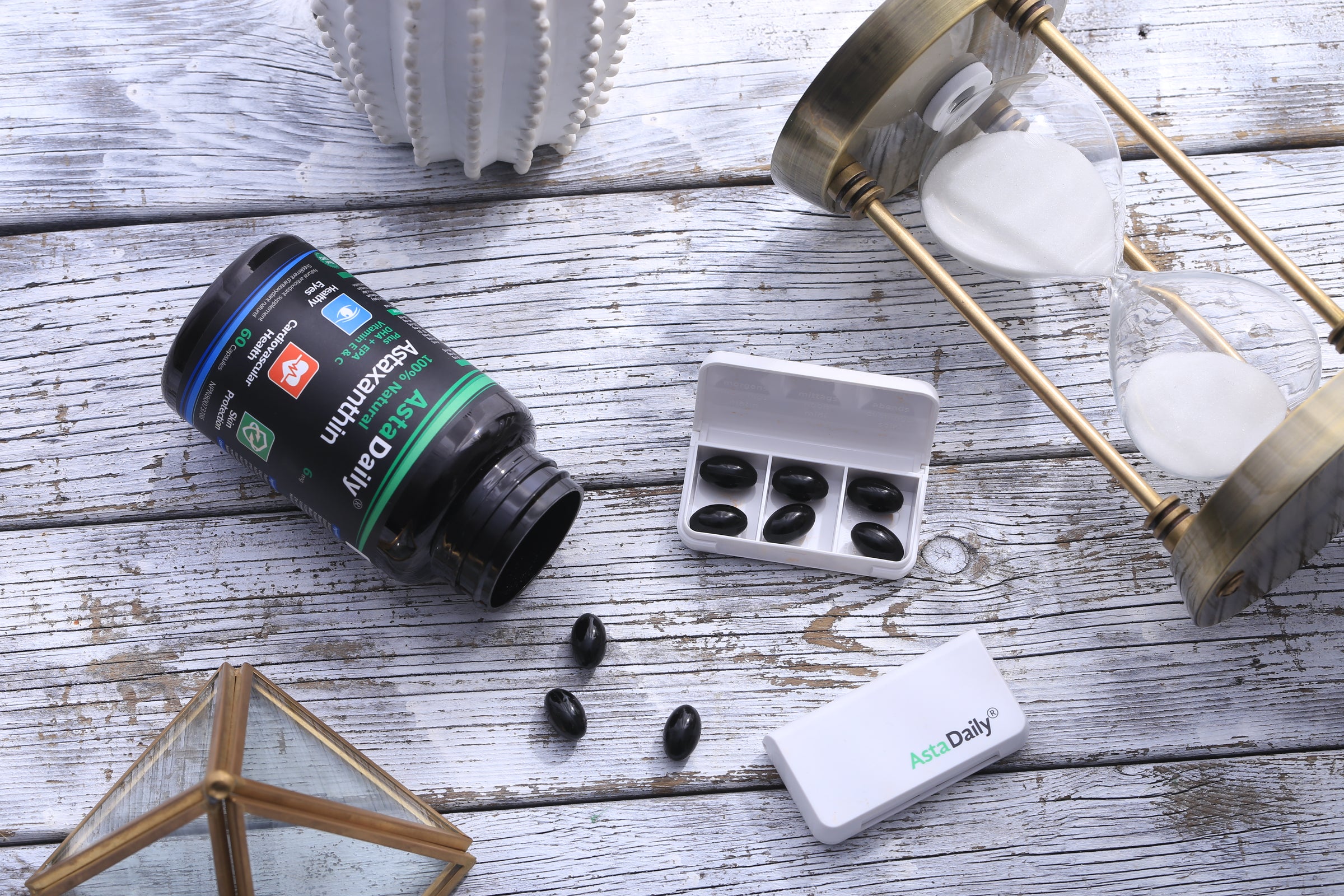 Boost your health
with AstaDaily